This is not related about how to look rich, it is more about appearing rich! If you're similar to me, then you're not rich!, but we've all imagined what it would be like to roll around in a fancy car.
Well I was put it in here to let you know there's scientific proof that women are more attracted to guy that drive nice car. Even if they won't admit it because after all if you drive a nice car, you must be a nice guy.
Here are six ideal cars that will make you look Rich
That are all less than you'd spend on a brand-new Honda Civic EXL and you'll want to stay till the end because the last car on this list I currently own. From personal experience it's a chick magnet. it makes you look rich… let's go.
Porsche Boxster
Not only do women find men that Drive Porsche more attractive, but men find women that Drive Porsche are more attractive too, just think about the last time that you saw a girl driving a Porsche she instantly went up a couple notches on the hot-or-not scale.
So as long as other people think that you have a good taste in cars and can afford the repairs of a high-end sports car then you must be rich right?
The Porsche Boxster specifically the second generation which came out in 2005 is one of the most cost-effective ways to get into an attractive brand that just success.
The main reason that you want to get into a second generation over a first is the first Gen had major engine issues less power and this styling just wasn't on point.
The second Gen is a beautiful drop-top two-seater mid-engine sports car with wide fenders and it also sports a bulge that would make Hugh Heffner jealous.
One of my favorite designs of the second generation Boxster are the headlights, which if you squint a little have an eerily similar look to the ideal Carrera GTS.
You can either snag a base Boxster which has a 2.7 liter pushing out 236 horses or it's bigger brother the Boxster S with the 3-2 liter flat six motor pushing out 276 horsepower.
Either way they're cheap cars that will make you look rich so use the ideal car strategies to snag your ideal Porsche Boxster and then swap the stock wheels for some nice 19's.
Hint: I can pretty much guarantee you'll get front row parking the next time you have valet your car or if you're like me and you aren't rich, you'll at least get some looks while you drive by the valet.
Audi B8 S4
The Audi B8 s for sedan is seriously something special, you get a glorious supercharged three litre two wrecked injected V6 with 333 horsepower and 325 foot-pounds its work on tap.
Plus that confidence-inspiring Audi Quattro all-wheel drive easily puts the power to the ground and with a simple tune you'll be looking at a hundred extra horsepower over stock.
Yeah I love forced-induction cars but performance isn't necessarily why we're here, rather it's to look rich! and those "out earrings" make the statement.
Also simple design cues like unique bumpers, grille, quad exhaust and a few other nice touches set this car apart from the lessor Audi A4.
Just the fact that you can get a high performance Audi S4 for well under the price of a New Civic is thanks to this beautiful thing called depreciation.
Well I guess it depends on which side of depreciation you stand on, because buying a car and losing a Hundred Million on New Civic would absolutely suck.
Audi B8 S4 is really a great car and I was considering buying one before I purchased the fourth car on this list. It's just a classy sexy and well performing bargain of a sports car.
Cadillac CTS-V Coupe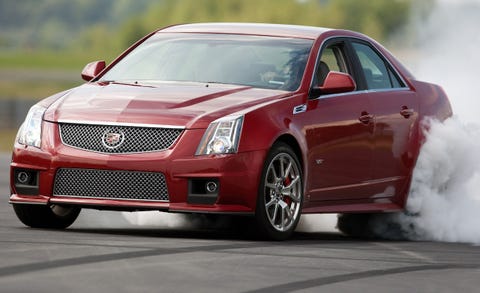 General Motors has positioned Cadillac as the brand that's supposed to compete with the likes of BMW, Lexus, Audi and Mercedes. If you roll up in a car from any of the brands that I just mentioned, I don't think that people would necessarily think that you're poor.
That is why the Cadillac CTS-V Coupe is a lot like nothing else.
Think about it for a second… Jim took an ultra luxury car brand and decided to go wild with it, I mean absolutely wild! You got next snapping good looks with performance that'll scare the side-skirts off the competition.
Let's talk about performance for a second, at the time it was the most powerful production coop from Cadillac in its history and there's a very good explanation for that.
That's pretty simple they just shoehorned a supercharged push rod aluminum block V8 under the hood, pumping out 556 horsepower and voila you get one of the fastest sports cars ever produced. Whipping from zero to 60 in just four seconds.
See… Cadillac took the already successful V formula with their hot four-door sedan and built a vehicle that is in a sense.
The only vehicle of its kind on the road, not only will it roast almost everything out there in a straight line, but you'll also look like MR.MoneyBags rolling up to any black-tie affair.
After all, looking rich isn't about how much you can spend, it's about how little you can spend to make yourself look rich and the Cadillac CTS-V Coupe is one of the best bang for your buck.
BMW E90 and 92 M3
This list would not be complete without a BMW on the list and the E90 and 92 M3 are some of the best bargains right now. The E90 is the four-door
version M3, while the E92 is the two-door and more sporty looking. They both carried that award-winning S65 V8 powerhouse that was forged in the depths of Mount Doom from the E60 M5 engine.
The engine in the BMW M3 won the International engine of the Year Award in 2008, 2009, 2010, 2011 and 2012.
This car is gonna make you look like a Winner, that's for sure. That is exactly how I felt when I bought mine a couple years ago but you can check out over here what's crazy is that when I picked up my 90 M3 all my friends thought I got a pay raise, which couldn't have been further from the truth.
I can guarantee that if you roll around in an ideal M3, your friends family and even that cute barista down the street will think that you've fallen in just some money.
I had the four-door sedan M3 which blends in a little bit more than the coupe it's still athletic-looking with awesome fender flares and the iconic exhaust tips and the brakes were literally the best I've ever experienced.
"You literally had to take duct tape to keep your eyes in your sockets, just look at how big these things"
These are easily some of the biggest brake calipers I have ever seen.
The coupe is a wolf in wolf's clothing.. well this sedan is a wolf in sheep's clothing which one would be your ideal M3.
If you're ready to boost your looks and ego the E90 and 92 M3 is definitely a force to be reckoned with.
Oh… I almost forgot, do you know the difference between BMWs and Porcupines. porcupines carry their pricks on the outside so be careful if you pick up a BMW because you don't want to become up.
Infiniti Q60
So if you were to ask me which Sport luxury coupe will break next but won't break your bank? I'd have to say that the Infiniti Q60 is one hell of a Canada.
Infiniti is one of those brands that just makes great-looking cars and the Q60 is no exception. If you remember the Infiniti G35 in G37, they had that fun playful demeanor, with all the right looks to back it up.
In the Q6 which is the younger brother of those cars also has those same fun dynamics. Are you're familiar with the VQ engine sounds? you have to listen to those.
The sharp sporty looks coupled with the luxurious interior make this thing a total ShowStopper.
Infiniti as a brand is just kind of misunderstood, which I actually think makes these cars even more luxurious.
You see Infiniti is the luxury vehicle division of Nissan, just like Cadillac is for GM, in Lexus is for Toyota.
I think that less people know about infinity, so when you're rolling up and one people might just think that you're rolling in a low production car which makes you look rich.
Nissan 370Z
Now… before we get to the ultimate showstopper, here is the honorable mention since we were just talking about an Infiniti. It's only fitting that the honorable mention is a Nissan and it's the Nissan 370Z.
This beast is a beautiful two-door two-seater sports car that's been around for the past 10 years or so.
The successor of the uber successful Nissan 350z, the 370z is lighter, more powerful and a better looking of its older brother. It commands respect with its eye-catching head and taillights landed perfectly into the rest of the car styling.
Although it wasn't that expensive when new costing in the mid 30s, it's a small, fast and fun sports car that will make you look like you get yourself done.
So, as you rip around with the 3.7 liter V6 making all those proper intoxicating sounds. People watching won't be wondering if you're successful, rather how successful.
Porsche 997 911
If you want the best value sports car out there, don't look any further than the Porsche 997 911, trust me… after buying my ideal 997 911 and all the fun that I've had with it. I just couldn't help but buy a 996 911.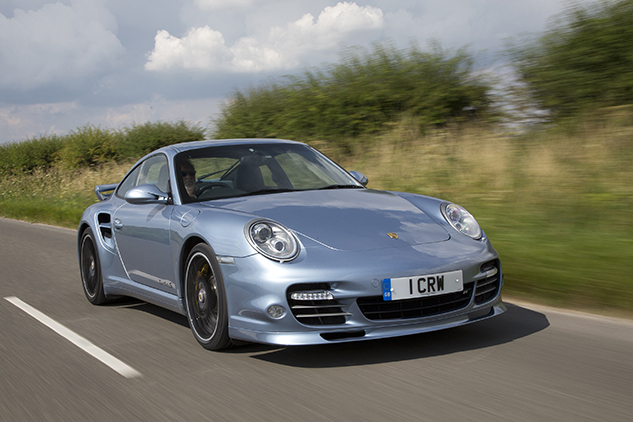 For the 997 which you can pick up for less than a new Civic, you get a car that has the ultimate pedigree, performance and bargain.
The looks are timeless with those curvaceous luscious bootylicious hips. The engine is one of the best in the business.
Every time you pump gas people come up and ask you what job do you have to afford a 911 with the slight smirk. I usually tell them not a very good one and let them know how much I pay, it's always way less than they thought it costs.