You're here because you always longed for more and the US didn't necessarily get all of the coolest cars over the years.
I guess we can't complain. We got cars like the Mustang GT500, Shelby Cobra and the Ford GT.
When you look overseas and you see what you're missing out on. You develop that itch… That you just can't reach.
6 Import Cars You Can Buy in USA
I'm gonna be honest with you it sucks. I mean Who am I kidding, you feel the same way that I do.
To satisfy those kinky desires of yours.
I've made a list of five cars that all fall outside the 25 year import law.
Finally available to come home from Europe and Japan.
The last one on this list is just about as close to perfection as you can get.
Mitsubishi EVO
All of you have heard of the Mitsubishi EVO 8, 9 and 10.
His basic math goes there's seven more cars that never made it here to the US
As of today we can import the first to ever produce.
First born in 1992 the evil one is a totally with 4-door sports sedan.
It's an upgraded version of the not so cool Lancer, with a 2-liter turbocharged dual overhead cam sitting under the hood.
An amazing all-wheel drive cool from the original Galant VR4, slams all 244 horsepower to the ground.
Kind of like Paris Hilton, this thing will give you the ride of your legs.
But… What is even cooler than the Evo 1? is the Evo 2 of course.
It's basically just a jacked up evil one and it started production in December of 1993.
Which means you could find one and import it right now.
Quick side note: if the build month, makes it 25 years old so. If it was January of 1994 that means you can import it January of 2019. Simple math right!
In this Evo 2, corners like it's on Rails with plenty of power to back it up.
I'm pretty sure pushing 252 horses, this thing absolutely flies down those candied
roads. Leaving the sube in the dust of course.
It's got lighter sway bars, wider tires, wheelbase adjustments in a larger spoiler to keep things on the ground.
If you are a fan of Japanese sports sedan, this is the one that you need to consider adding to your garage.
Audi RS
Audi has been pretty well known to create some awesome wagons.
When Audi and Porsche co-developed… You, Me and the world knows that it will not be disappointed.
That is exactly what happened in 1994. The Audi RS is one of the most special cars to come out of Germany.
This five-door 5 seat station wagon was the first wagon out he released to the public.
They called it the Avant. Powered with most advanced inline 5 turbo motor.
Especially with this Quattro all-wheel drive system.
311 HorsePower rockets this family hauler from 0 to 60 in just 4.7 Seconds.
If you keep your foot pinned down long enough… you'll soon be cruising at a maximum speed of 163 Mph.
Essentially this is a limited edition wagon that was manufactured by Audi assembled by Porsche in the exact same plant.
The exact same one that produced this car called the Porsche 959.
It's a pretty big deal!
Suzuki Cappuccino
I bet that many of you have heard of the Mazda Miata. You may be a little bit tired about hearing about the Miata.
It is totally understandable…
But what if I told you that there was an even better option and it was dubbed a Japanese mini car?
This Suzuki Cappuccino is one of the cutest things that you've ever seen.
This car has a 50/50 weight distribution, impacts the tiniest of punches with its 64 horsepower turbo 3 cylinder.
But don't let these numbers fool you.
It's got a curb weight of just 1600 pounds. Just tossing this thing around corners is hilariously fun.
Just think of what the Miata is to all other cars. It's cheap, quick, light and it's absolute blast to drive.
That's basically what the Cappuccino is to the Miata.
If you've never driven one… I can't recommend it enough.
It's like the foam on top of your Cappuccino it's just light and frothy. Kind of like gives you a mustache.
But I'm still peeking from the experience.
Subaru WRX STi
Around the same time that your parents did a thing, Subaru did a thing too.
In 1994 they introduced the STi (Subaru Technica international) versions of the WRX in Japan.
I gotta say just like your rents. They were not messing around.
Essentially they just hand-picked a normal WRX at the end of the assembly line and added a bunch of STi specific parts.
They make it a more powerful, stronger, sturdier force to be reckoned with.
Now… like a non identical twin, they're Still pretty tough to tell apart from the lesser regular WRX.
Trust me the STi is a brother from another mother.
The Japanese Automakers started making a hundred per month from February 1994.
This son of a Rally Car could be sitting in your driveway right now.
The vape is definitely optional.
Nissan Skyline R33 GTR
Hold your horses before you say that you can't import them until 2020, because you're right.
Here's the thing and it's sort of a workaround before prices go completely haywire.
For the modern Japanese hot rod with a turbocharged engine sending all of its power to all four wheels.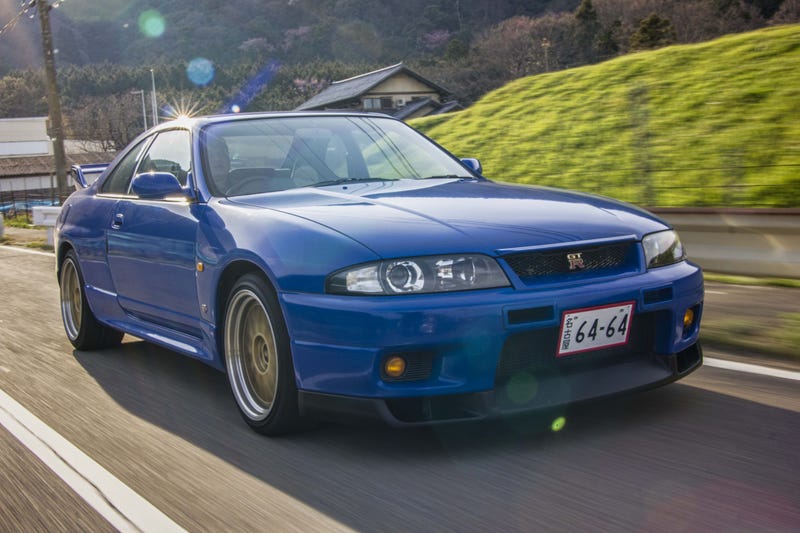 See… just like the prices skyrocketed for the R32 once it became legal.
Nissan Skyline R33 GTR most likely suffer the same fate.
Which is actually a good thing for you if you buy in R33 now. Store it up in Canada for a couple of months.
Yeah… it will cost you a few hundred bucks and storage fees.
But it will save you a few thousand dollars come 2020, when you can legally import it into the USA.
Just close your eyes and imagine cruising across the Canadian US border in an R33 on January 1st, 2020 at 12:01 a.m.
Which generation of GTR do you like more? is the R32 or R33 like the dream girlfriend that you're never gonna have.
I like both. Personally I think the R32 and R33 are nice.
But styling on that R33 is the best of the three.
Why didn't I include the R35? because it's missing a clutch pedal… That's why!
Let me know down in the comments, if you think the R33 GTR would be an ideal addition.
I mean… When is the last time that you saw an R33 GTR in a movie with a spotlight roll? Pretty much never!
Because it's so underappreciated. That is why I love it that much more.
Ford Escort RS Cosworth
When you think of the greatest Ford ever created. What comes to mind? the boss 429, GT 350 or the Ford GT? Naahh….
I think you haven't heard of the Ford Escort RS Cosworth. I'm here to tell you why it's the greatest ever created.
Known as the CAHSEE. This group a homologation Street car comes from the depths of heaven and hell' at the same time.
Winning ten victories in WRC. Its curvaceous lines most definitely give amber her to run for her money. That booty definitely puts Kim Kardashian to shame.
It's got a Garrett turbo powered four banger pushing out 224 horses. But that's not even close to its full potential.
It's competition counterpart can push up to three times.
On the street car 300 HorsePower is just an exhaust and tune away.
That's why it's one of the greatest cars ever created.